Antique Collectable Clocks: Investment In Time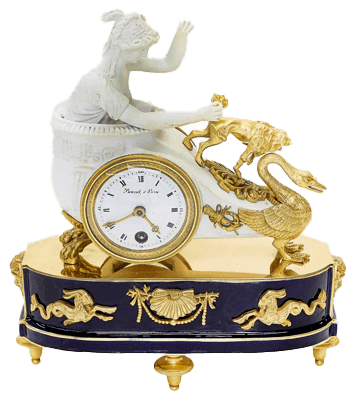 Bourret a Paris
Why Buy An Antique Mantel Clock?
Antique old and collectible mantel clocks are actually an "investment in time." They allow you to enjoy the benefits and brilliance of old-world artisanship and the beauty of their work. Antique mantel clocks are a wonderful way to acquire collectible art that is for sale and enhance your home with an investment both in beauty and value. Here, we specialize in small shelf clocks that can fit on your mantelpiece or shelf, adding charm to your home as well as increasing in value over the years. Try buying a new one and see what it is worth the following week. Not much. A beautiful and collectible French or American antique clock is something that you can pass down to others in your family as an heirloom.
WHY CHOOSE US FOR YOUR ANTIQUE CLOCK?
Buying a collectible antique mantel or carriage clock for sale from valuableclocks.com benefits you because not only is it reasonably priced, but it is a trouble-free, running, and working old mantel clock. All of our unique antique French or American shelf or carriage timepieces have been tested, cleaned, and restored where called for. Each antique French or American timepiece is in excellent running condition, but you should expect them to have some wear from moving, usage, storage, and even wars. That being said, there is nothing that would prevent your enjoyment of these beautiful, unusual, and decorative mantel clocks as "functional" art.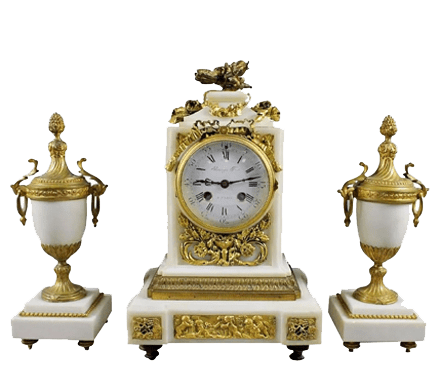 Raingo Freres Set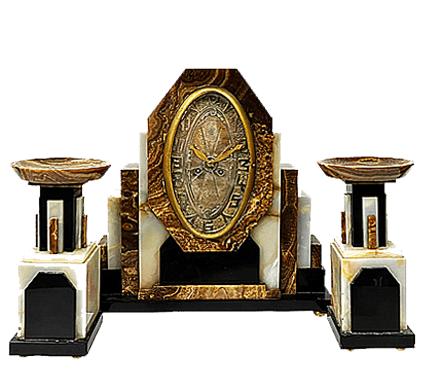 Onyx & Bronze Magnificence
THE ULTIMATE CLOCK GUARANTEE
Your French or American mantel clock is ready to be enjoyed, is running, and is a good timekeeper, no matter how old it is. All of our clocks have the easiest guarantee. When you buy from us, we guarantee your complete right of return within seven days of your receipt, provided it was not subject to abuse and comes back in the same condition as sent. You just pay the shipping of it back to us, properly and safely packaged, and 100% of your purchase price, less our shipping, shall be refunded. We further guarantee the mechanism for one full year from receipt. Just remove it by removing the two screws that hold it in place, pack it carefully, and return it to us insured for the same price you paid.
What Makes A Clock Valuable?
It is a simple question with an even simpler answer. There are three prime elements; The maker, the age of the clock (era produced) and the esthetics of the case. Some of the most famous clockmakers are Noel Bourret, Raingo Fres, Ferdinand Berthoud, Frederick Berthoud, Breguet, Brocot and some others. There are some very common names like Japy, Vincente, and Marti, but they are not among the greats. Just like with antique furniture, there is the era that set the style, such as Louis XV, Louis XVI, Regency, Empire etc. and then the revival eras, such as the Rococo works made in the 19th Century of the style developed in the 18th Century. There even was a second revival around 1900, sometimes referred to as the Rococo Revival style. The Revival of the original style, is not as valuable as the original. Lastly, it is simply the beauty of the case. How stunning is it. Add up all three of these things and you have the value of a clock.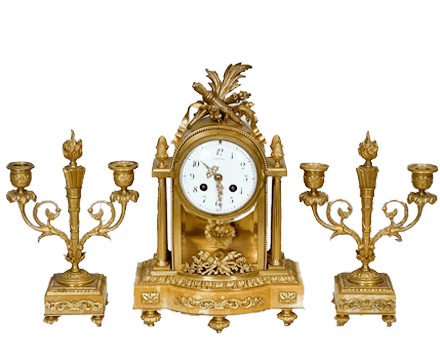 French Set by Tiffany